I just returned from a ten day stay on Amelia Island, which is located 30 miles north of Jacksonville, Florida.  It's been on my radar screen for years, so I was anxious to check it out for myself and for my clients.  Given the relative ease of getting there and the fact that the island is known to be very family friendly, my husband and I brought along our two small children.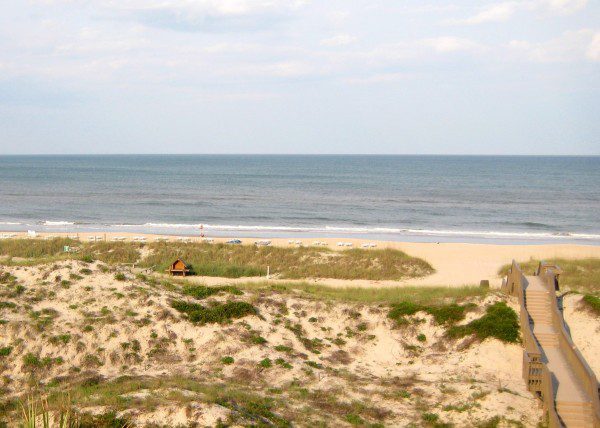 Our first stop was the Ritz Carlton Amelia Island, and it did not disappoint!  The service, grounds, dining, spa and activities were fantastic.  The service in particular exceeded my expectations in every way.  I can't think of anywhere I've visited in recent years with such an attentive and friendly staff.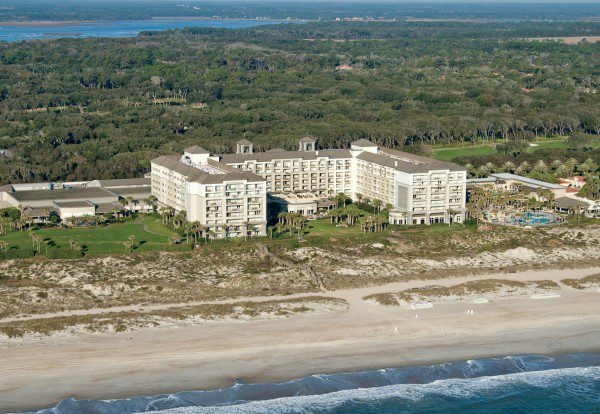 From the moment we arrived, I felt like a "VIP!"  Additionally, my children were treated as special guests and pampered throughout their stay. The Ritz embraces its youngest guests in remarkable ways I've never encountered before at a five star resort.  They seem to have thought of everything – a baby pool shallow enough for the littlest ones, yet filled with entertaining fountains for older toddlers, a fantastic Ritz Kids Camp, and daily activities such as a treasure hunt or hunting for sharks teeth on the beach are just some of the many ways the Ritz caters to children.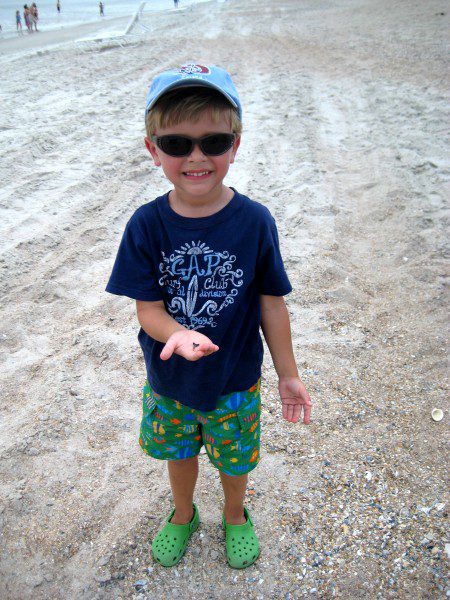 Our most memorable experience was the pirate tuck-in we arranged.  At  bedtime, there was a knock on our door.  "Princess Amelia," a pirate and a real parrot entered our room to read the children a bedtime story, and deliver cookies and other special gifts.  My son and daughter loved it!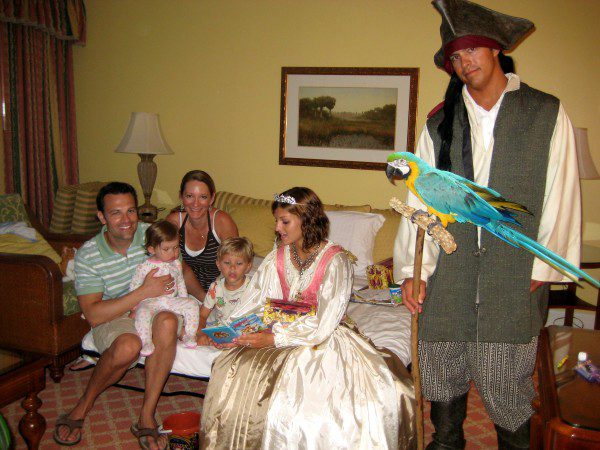 I decided to upgrade to a Club Level room, and I can honestly say it was worth every penny.  Located on the top floor, the elegant yet informal lounge offers four different food presentations daily (all of which were excellent) along with unlimited alcoholic and non-alcoholic beverages.   My family ate breakfast and lunch daily there – a big savings when you consider what it would cost to eat each of those meals in one of the hotel's restaurants.  Additionally, there was a wonderful children's room adjacent to the Club lounge, which was loaded with toys, children's videos and comfortable spots for littles ones to relax.
Dining at the Ritz Carlton Amelia Island was top notch.  Salt, their signature oceanfront restaurant, delivered one of the best meals I've eaten in a very long time.   It was a great spot for my husband and me to spend some adults-only time in an elegant setting.  I also particularly liked Cafe 4750 for it's casual atmosphere and lighter fare.  Diners can choose to eat in the restaurant's lively main dining room or the spacious, outdoor verandah overlooking the ocean.
The spa is brand new and quite impressive.  Over 27,000 square feet in size, it offers a wide array of spa services in a tranquil and chic environment.  Also worth mentioning is the outdoor spa pool – adults only and blissfully peaceful.  Envision plush towels, special pillows and plentiful attendants to cater to your every whim.  It was an amazing, adults-only haven!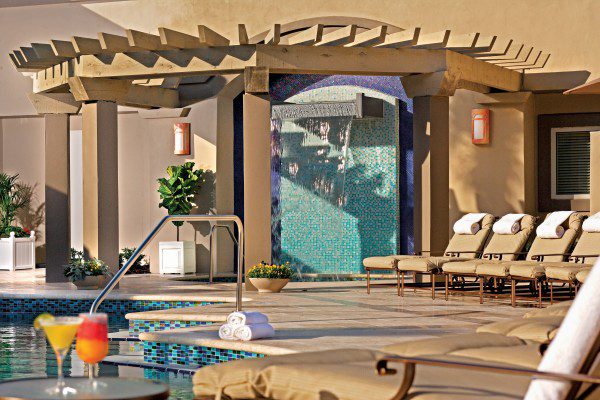 More than anything, however, I found the Ritz to be such an incredible place because of the outstanding service.  It was truly "five star" in every way and made our stay so wonderful.  Whether you're seeking a romantic get-away or a fun-filled family vacation, the Ritz Amelia Island has the right accommodations, programs, facilities and dining options for you.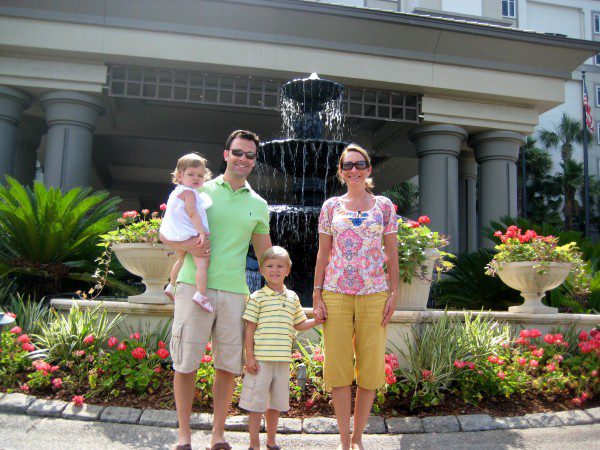 My next stop was Amelia Island Plantation, a 1,350 acre resort and residential community just a few minutes down the road from the Ritz.  The Plantation is bordered by the Atlantic Ocean and Intracoastal waterway, and its vast size translates into numerous accommodation choices for visitors lucky enough to enter its beautiful grounds.  Known for its environmental consciousness, the resort has done an amazing job of preserving the coastal vegetation and habitat.  I was most struck by the magestic live oaks draped in Spanish moss, which thrive everywhere on property.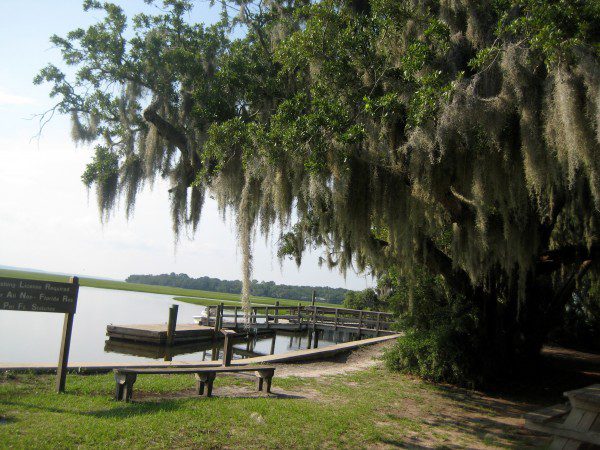 I selected a two bedroom oceanview villa for my family.  It was well-equipped, spacious and offered fantastic ocean views from our sizable balcony.  Having a kitchen and our own washer and dryer was particularly helpful when traveling with little children.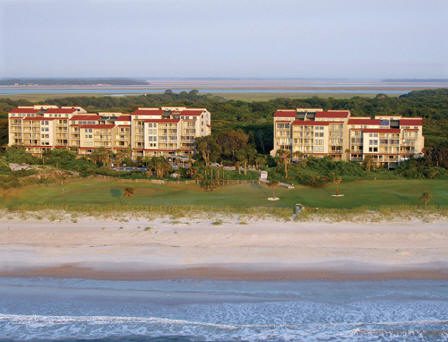 Outdoor locations to soak up the sun are plentiful by anyone's standards.  I really liked having the ability to choose where I'd spend my time each day.  My personal favorite spots included the Beach Club pool, the beach in front of our villa complex, and the pool at our villa complex.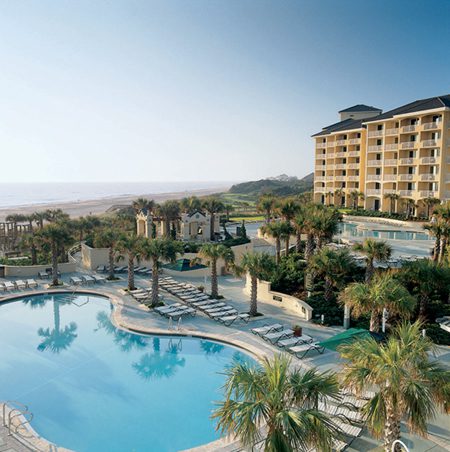 Amelia Island Plantation offers a vast array of activities for its guests.  With 72 holes of championship golf available, golf lovers will find themselves in paradise!  23 tennis courts, miles of walking, jogging and biking trails, numerous swimming pools, a children's park, and a well equipped Health & Fitness Center are just some of the many options offered.
One of the highlights of our stay was a morning spent bike riding as a family.  My husband and son opted for a "ride along" bike, and I pulled my daughter in a comfortable trailer.  We had such a great time exploring Amelia Island Plantation's beautiful scenery!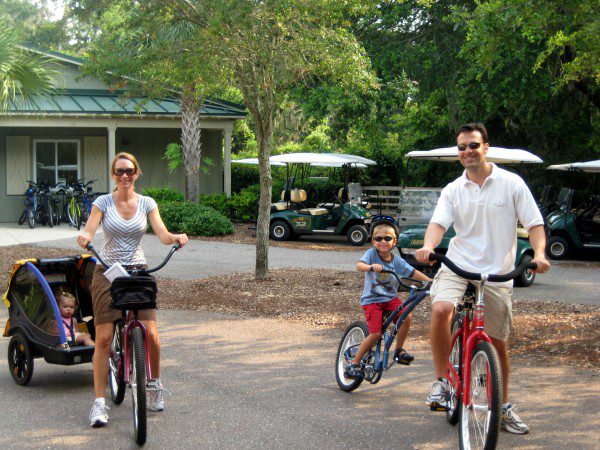 I highly recommend renting a golf cart for at least a portion of your stay.  Known locally as "Island Hoppers," they provide convenient transportation and a fun way to see the resort.  Trams run regularly as well, but I preferred having the flexibility to come and go without waiting for a tram to come by.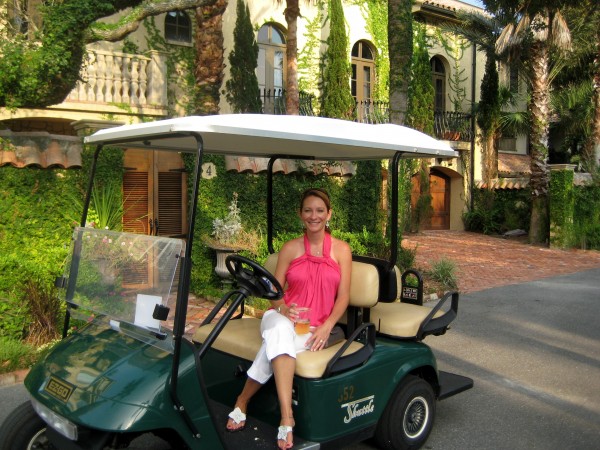 Amelia Island Plantation offers numerous dining options on property.  My dinner at PLaE (which stands for "People Laughing And Eating") was my favorite.  The atmosphere and food was excellent.  Additionally, I was a big fan of the Marche Burette, a small deli and grocery store which offers oven brick pizzas, gourmet soups, and sandwiches for lunch and dinner.   The Friday night Boardwalk Bash there was particularly fun – my children loved the free buttery popcorn, and my husband and I enjoyed the $1 beers.  Live music completed the event, which was packed with guests and residents.
The children's program at the resort is well-organized and offers a variety of great experiences.  My son spent one morning at Kids Camp Amelia and loved the games, crafts and pool time spent with other children his own age.  "Just For Kids" evening theme parties for ages 3-10 are offered every weekend in the summertime as well.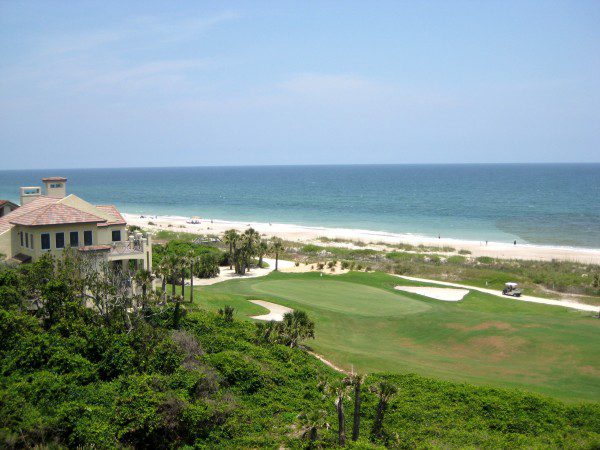 Amelia Island is a great option for families and couples alike.  The miles of wide, unspoiled beaches and excellent resort choices offer something for everyone.  Even better is the ease of getting there – a welcome respite from lengthier and often more hectic international travel.  If you're looking for true southern charm in a tropical setting, it's an ideal spot for you!