It took me all of three seconds to answer my colleague's question, "Would you like to join me on an educational trip to visit two Virtuoso properties on Anguilla and St. Barts?"  Yes, yes, yes!  I'd visited both islands several years ago, and they remain on my list of  favorite Caribbean destinations.  I therefore  jumped at the opportunity to see them again and gain more knowledge to share with my clients.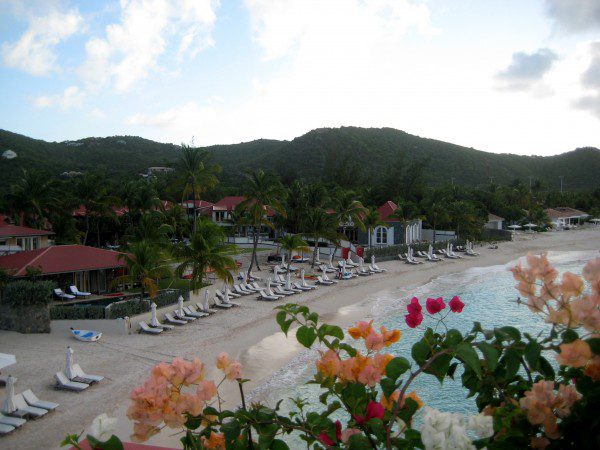 Our first stop was Anguilla, site of some of the best beaches in the world.  Like most visitors, I flew into St. Martin and hopped on a boat for the beautiful, 30 minute ride over to Anguilla.  The two islands are only a few miles apart, which makes for pretty background scenery if you happen to stay on the side of Anguilla facing St. Martin.  I love looking out over the mountains of St. Martin and its twinkling lights at night – a beautiful site!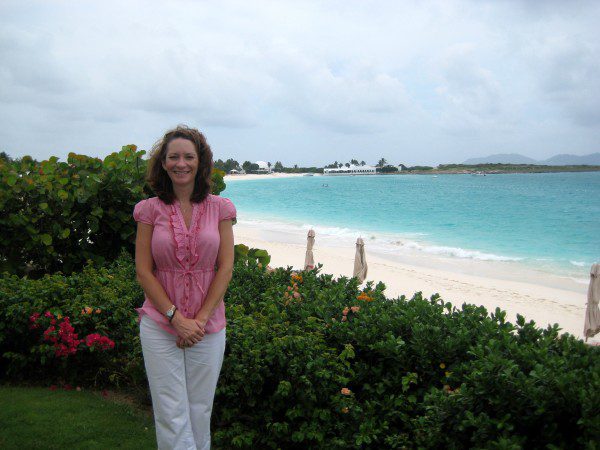 I was fortunate enough to stay at Cap Juluca, which is my favorite property on the island.  I visited the hotel with my husband in 2003 and have been telling people since then that Cap Juluca is one of the most spectacular places I've ever experienced.  To say that its mile long, crescent shaped beach is beautiful is an understatement.  It is truly one of the most gorgeous beaches I've seen in my lifetime.  Add the stunning Moorish architecture of the hotel to the soft, white sand and calm, clear water, and guests will find themselves enjoying a true piece of paradise.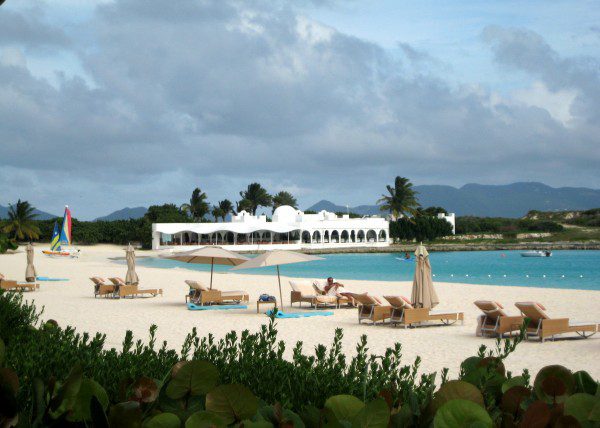 Cap Juluca recently underwent a $28 million dollar renovation, which has taken the famed hotel to new levels of luxury and notoriety.  The Main House was completely redesigned, and its Moroccan themed interior is perfectly matched with the architecture of the hotel.  Additionally, the rooms were all refreshed with new beds, linens, flat screen tvs and more.
Every room at Cap Juluca is oceanfront and located just steps from the beach.  Guests awake to the sounds of the waves crashing, and a few lucky ones like myself might meet the lone green parrot who visits the balconies of his favorite rooms each morning.  Most guests opt to have breakfast delivered to their rooms at a time of their choosing.  My attendant brought fresh pastries, fruit, and coffee or tea each day and set a beautiful table for me on my patio overlooking the beach.
Dining at Cap Juluca is a five star experience.  Their restaurants are romantic, innovative, and the food is incredibly good.  I particularly enjoyed Flights, their new wine bar, followed up by a Pan-Asian themed dinner at the new Spice restaurant.   Pimms is another excellent option, and its waterfront tables are filled with starry-eyed couples enjoying a romantic evening and gourmet food.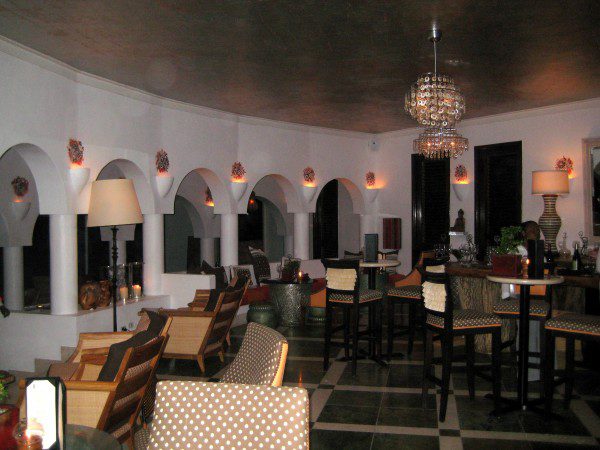 I always recommend that clients rent a car for at least one day while staying on Anguilla.  The island is safe, easy to navigate, and there are several other beaches worth exploring.  Additionally, the restaurant choices are vast.  Anguilla is one of the best islands in the Caribbean for fine dining, so everyone should sample at least a few of them.  I have a personal favorite list of spots I share with clients before they depart.  There is no shortage of options!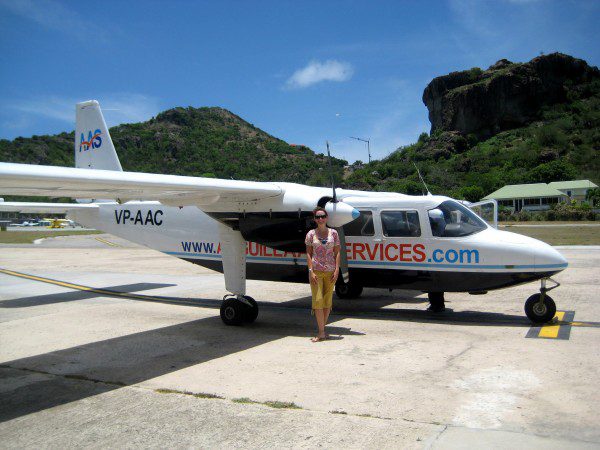 My next destination was St. Barts, which is part of the French West Indies.  As soon as my plane touched down, I felt as if I'd arrived at a seaside town in France.  The language, cuisine and culture of St. Barts are distinctly French, and the island is a hotbed of upscale boutique hotels, fantastic restaurants, and unique shops.   The island is also incredibly scenic due to it mountainous terrain.  Picturesque beaches are tucked between green mountains dotted with villas and small hotels.  Because of its beauty and high level of sophistication, St. Barts is one of the most unique islands in all of the Caribbean.
I stayed at Guanahani, a legendary hotel and resort located just ten minutes from the airport.  Its charming and colorful cottages dot the hillside, which provide memorable views of the water and rocky coast.  Frequented by celebrities and well-heeled travelers, Guanahani offers a wonderful combination of luxurious accommodations, world-renowned dining, and one of the most polished and attentive staff I've encountered in the region.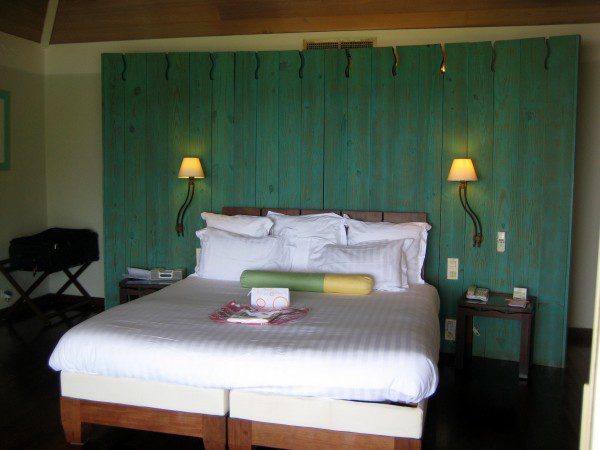 My room overlooked a cove on the other side of the hill and was the perfect spot to enjoy a good book and glass of pink French champagne.  When I was ready to venture out of my room, I walked through the hotel's meticulous grounds down to the beach, where a lively bar and restaurant can be found.  Additionally, there are comfortable lounge chairs and thatched umbrellas for guests to use.  The beach attendants are approachable and attentive, and I enjoyed a few lazy afternoons under their care.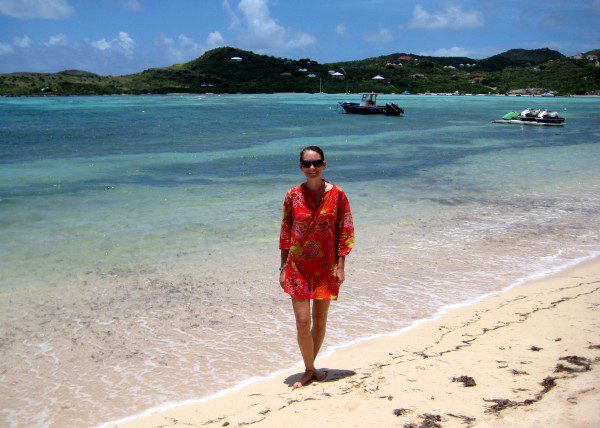 Guanahani's food is so good that I'm not sure I can adequately describe it in this posting.  The breakfast buffet is offered poolside by the beach, and the options are endless.  Decidedly French, guests can order from a menu offering items such as homemade crepes and cafe au lait.  While they wait, they can choose from a vast array of freshly baked pastries, fruit, cheeses, and more offered at the buffet.  Le Bartolomeo is Guanahani's signature restaurant.  It offers diners a romantic, courtyard setting and fine French cuisine as good as anything served in an upscale restaurant in France.  My meal there was one of the best I remember in many years!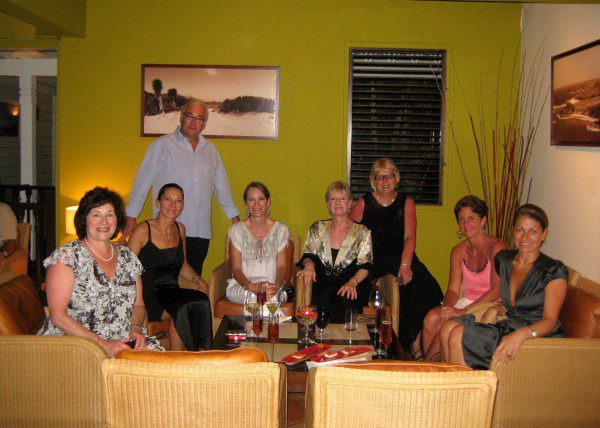 The Clarins spa at Guanahani is the nicest spa on St. Barts and a big attraction for guests.  The extensive spa menu pampers guests in a serene setting.  I particularly recommend the Swedish massage, which left me relaxed and ready to explore the island.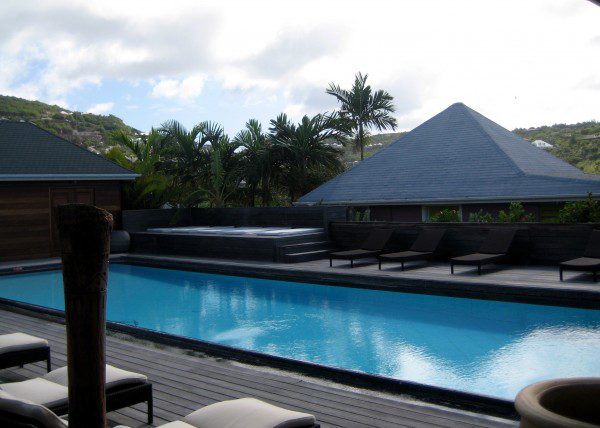 St. Barts is another island great for renting a car.  There are so many wonderful restaurants and boutiques to explore, as well as a number of quaint beaches.  I recommend packing a picnic lunch and driving to Governour Beach for great swimming, lounging and people watching.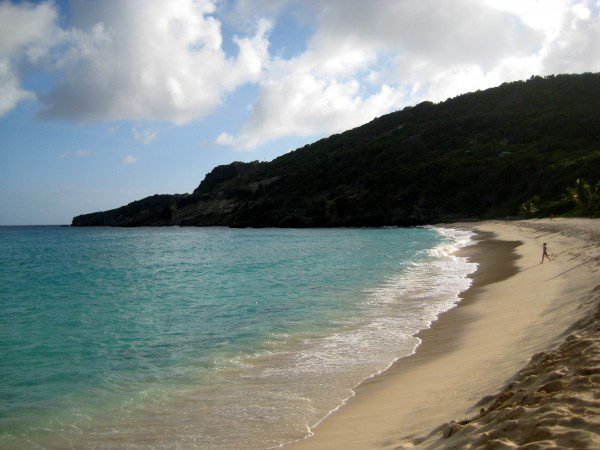 For travelers who'd like to experience more than one island during their trip to the Caribbean, Anguilla and St. Barts are one of the best destination combinations available.  The islands are both so scenic and cultured, yet completely different in feel.  Travel between the two is relatively easy as well.  I am already counting the days until I can go back and experience Caribbean beauty and luxury at its finest.