Where do I even begin? Jade Mountain, one of the most exclusive and spectacular properties in the Caribbean, is so special that it's a bit difficult to describe the experience of staying here in a blog post.  Jaw-dropping, breath-taking, and surreal are some of the first words that come to mind.  And they don't even begin to tell the whole story.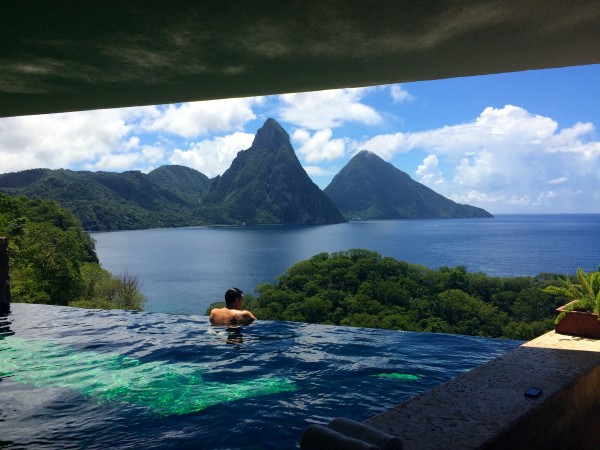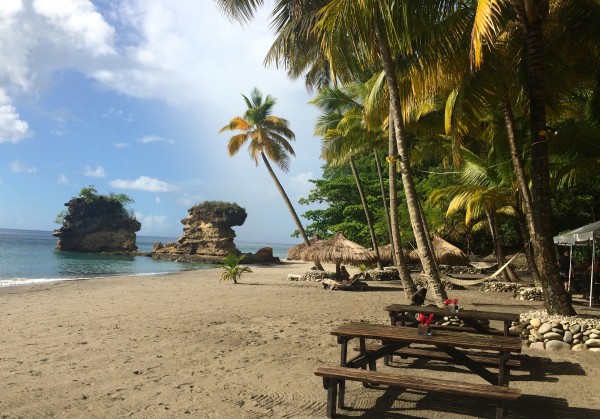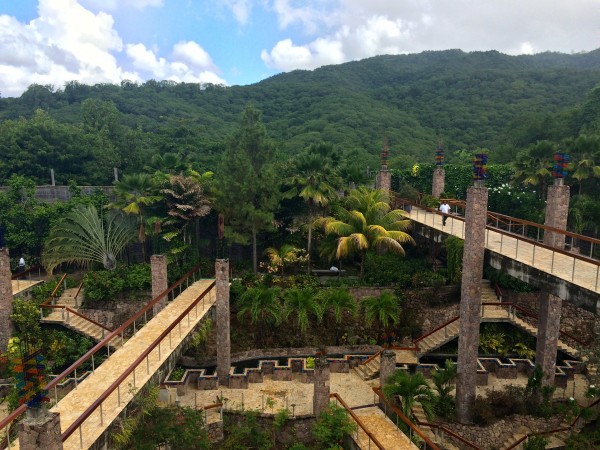 Located on the top of a mountain directly above the 600 acre Anse Chastenet resort, Jade Mountain is the brainchild of renowned architect and island local Nick Troubetzkoy.  His philosophy of building in harmony with the natural landscape, which was first implemented decades ago when he created Anse Chastenet, was painstakingly achieved in virtually every aspect of the more luxurious Jade Mountain.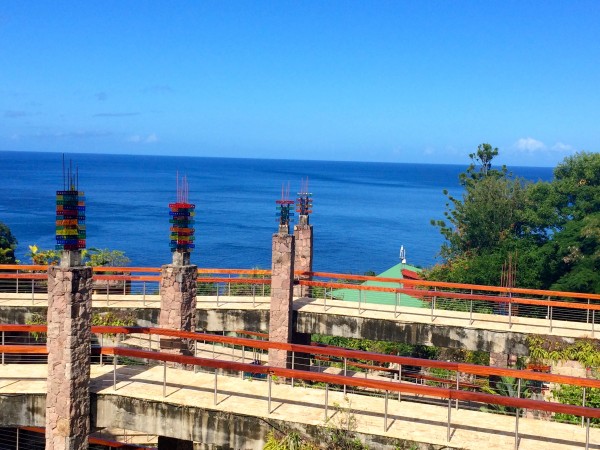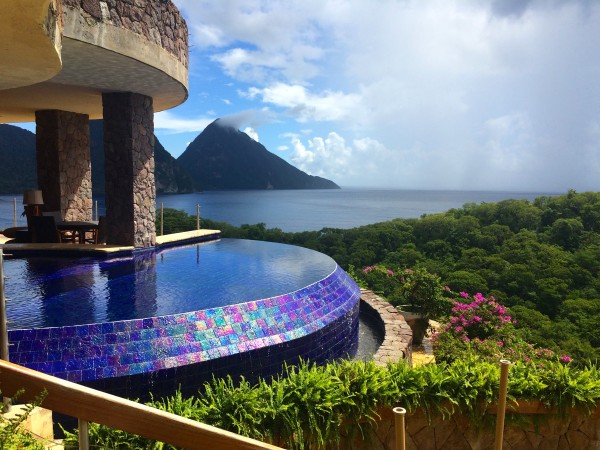 Each of the 29 suites (called "Sanctuaries") is uniquely designed – no two are alike, and none of them are anything other than incredible.  I think this quote from the hotel's website best describes the accommodations:  "Expect grand sweeping spaces where bedroom, living area and an extravagant private infinity pool glide into one another to form extraordinary platforms floating out into nature."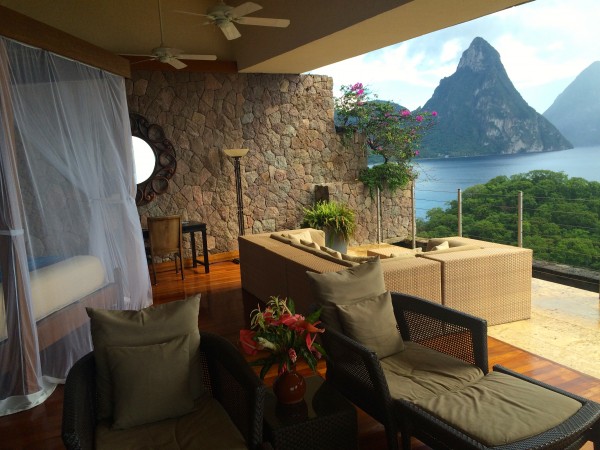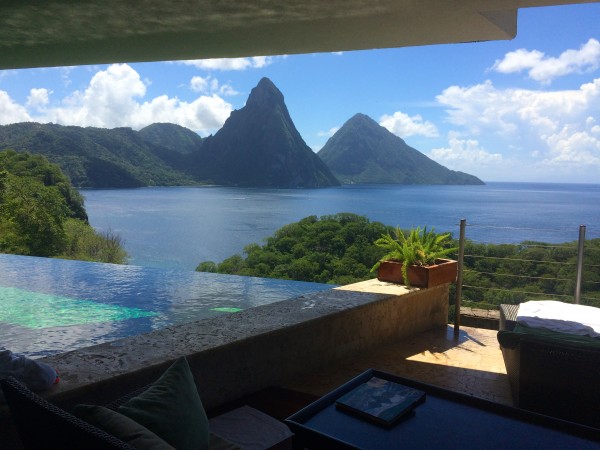 With no fourth wall present, every open-air sanctuary has uninterrupted, glorious views of St. Lucia's Pitons World Heritage site.  I couldn't stop taking pictures!  From sun-up to sun-down, I never grew tired of appreciating the dramatic landscape right outside my sanctuary.  Whether lounging in the four poster bed or taking a dip in the private pool, those stunning mountains and sweeping ocean views were always there for me to gaze upon.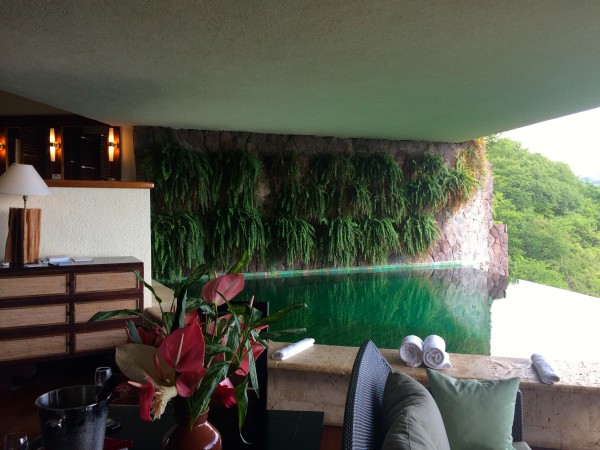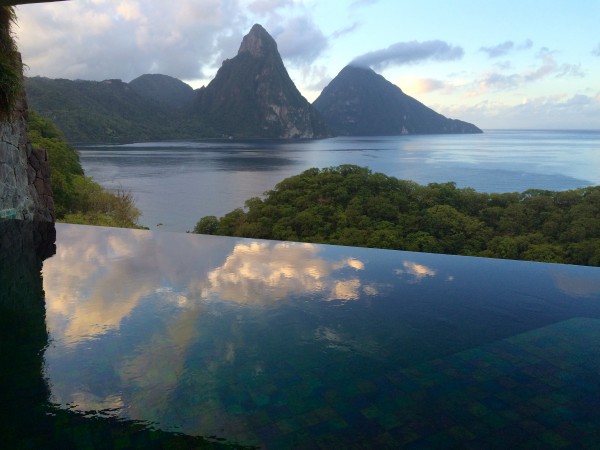 And have I mentioned the butlers, who are assigned to each sanctuary to take care of your every need?  The service at Jade Mountain was truly exceptional, and I quickly grew used to the personalized attention.  Want some extra local fruit at breakfast?  Out of suntan lotion?  In need of a romantic dinner served right in your own sanctuary?  Check, check and check!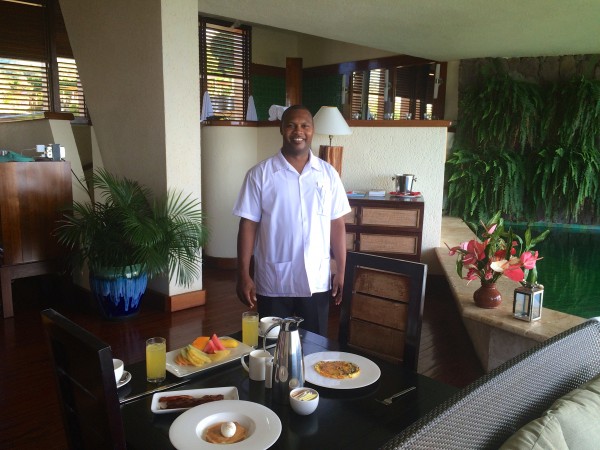 Sunset was another experience altogether.  With a glass of champagne in hand, my husband and I made our way to the top of Jade Mountain every evening and watched nature put on a show at the Celestial Terrace.  From there, we opted to either dine at the hotel's main restaurant just one level below or make our way down to one of Anse Chastenet's delicious restaurants.  (unless we preferred to dine at a table set for two in our own sanctuary!).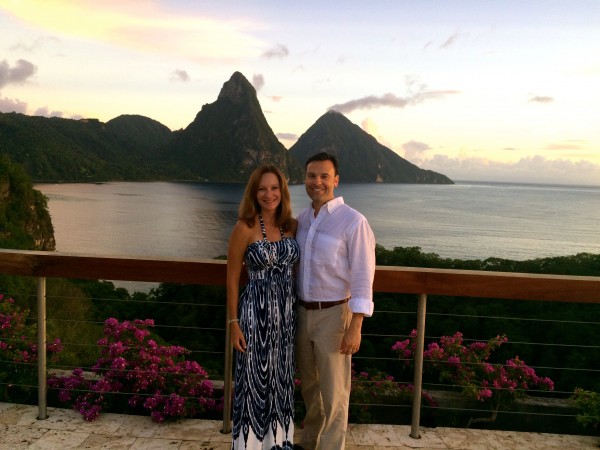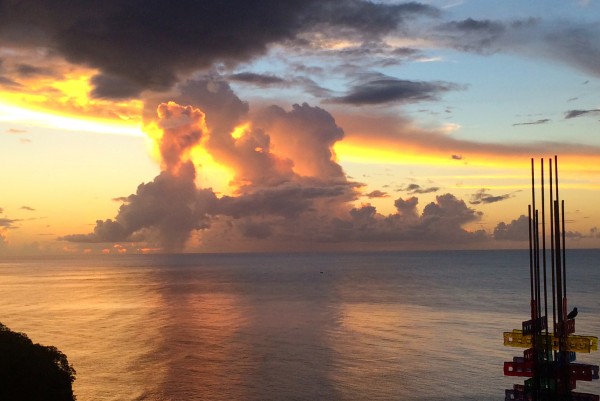 I would be remiss not to mention how fantastic the facilities are at sister propriety Anse Chastenet, where Jade Mountain guests have full privileges.  Two gorgeous beaches, world-class snorkeling, a full service dive shop, boutiques and multiple restaurants are available for guests to enjoy.  Access was easy as well – you can either walk down to Anse Chastenet or have your butler call for a car to carry you between the two properties (especially nice for the trip back up the mountain).  I particularly enjoyed the beachfront bar and restaurant – a lively setting and a great balance to the tranquility of Jade Mountain.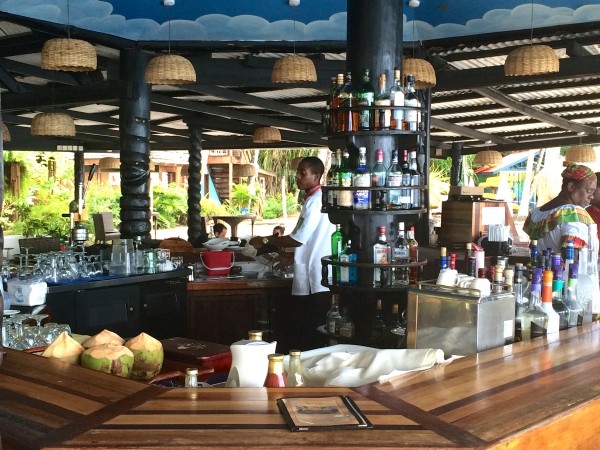 Jade Mountain is a Virtuoso property, which means my clients receive the following amenities when I make their arrangements:
Upgrade on arrival, subject to availability
Continental breakfast daily, for up to two in room guests
$100 Spa Services credit to be utilized during stay
Early check-in/late check-out, subject to availability